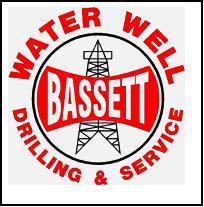 Take a moment to browse our website and see what we can do for you.
Here at Bassett Drilling we take pride in our customer service, equipment, and our work performance. We go the extra mile to give our customers 100% satisfaction. We believe that our customer base is our #1 asset to our company. The water well drilling industry, just like many other industries has come a long way in the past century. We now have access to state water well data that is more accurate than ever before. Due to the states efforts and concerns to protect this invaluable resource we can readily access well logs in specific areas and many times determine well depths, quantity, and sometimes quality. We work very close with the Ground Water Association and share invaluable information.
With a combined 15 years of field experience and state educational programming, you are assured professional service. We are capable of handling all house wells and most municipal pumps applications. We also have 24 hour service and are Goulds, Centripro, and Franklin dealers. Rely on the experts at Bassett Drilling for all of your Water Well Repair and Drilling needs. Our experts have been serving North Texas and Southern Oklahoma area for more than 10 years and specialize in Drilling New Water Wells and constructing Water Storage Systems. No matter what your needs are, we are here for you. We are fully Licensed and Insured.
For your convenience we have a business phone line along with assistance line.